Congratulations to our 2019-2020 participating classrooms!
We received many spectacular submissions this year from classrooms throughout California. Once again our team is proud of the amazing work and dedication demonstrated statewide from each and every participating classroom. Thank you for doing your part to care for California's water!
Learn about our winning classrooms below!


Curious about past winning classrooms?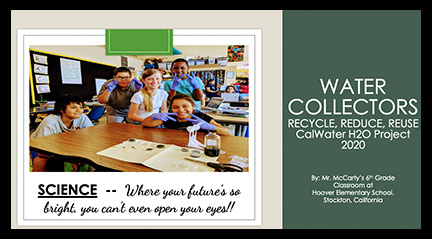 Grand Prize
Hoover Elementary
PROJECT TITLE: Water Collectors: Recycle, Reduce, Reuse
TEACHER NAME: Mr. Shawn McCarty
CITY: Stockton
GRADE LEVEL: 6th
Mr. McCarty's sixth-graders wanted to find a solution for current and future droughts. Students tackled this issue by substituting the use of pipe water with recycled rainwater harvested from self-designed water collectors. During the project, students researched the benefits of recycling plastic water bottles and how they could be repurposed as water collectors, then designed and tested various models. Using their models over a three-week collection period, students collected 500mL of rainwater, which they used for their classroom hydroponic garden. Finally, students furthered their study of plastic recycling investigating local recycling businesses and how much they would pay for their recycled bottles.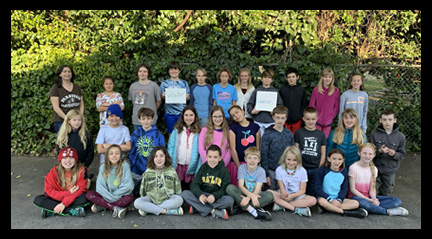 Second Place
Parkview Elementary
PROJECT TITLE: Engineering a Clean Future
TEACHER NAME: Mrs. Tammy Janos
CITY: Chico
GRADE LEVEL: 5th
Mrs. Janos's students had been affected by the Camp Fire in Paradise California in 2018, and understanding the lasting effects on their environment, the students were inspired to tackle local water quality concerns. As such, the students engineered a sustainable home to conserve and detoxify polluted water allowing people who reside in areas with poor water quality and toxic soil to return to their homes safely. Students researched and experimented with water catch systems, water filtration, water quality testing, hydroponic gardens, and phytoremediation. From building their own water filtration systems, to testing local water quality, students designed a 3D model of the innovative home and shared their knowledge with the community by creating a student newspaper, filming an infomercial, and holding a community meeting, where they invited their school community, families and friends.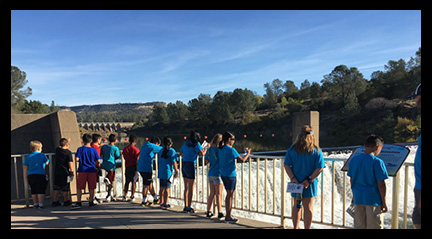 Third Place
Little Chico Creek Elementary
PROJECT TITLE: Reduce Plastic: A Classroom Challenge
TEACHER NAME: Ms. Kristen Thomas
CITY: Chico
GRADE LEVEL: 4th & 5th
Ms. Kristen Thomas's students launched a schoolwide recycling program to raise awareness on plastic pollution in local waterways and oceans. Students surveyed each classroom at Chico Creek Elementary, launched an eco-audit of the school's waste and water, purchased reusable, BPA-free plastic water bottles for the school's student store. Additionally, Ms. Thomas' students performed a clean up at the local creek, collecting 119 pounds of garbage, tested their school's drinking water, and added additional recylcing bins to the school cafeteria. To further their learning and outreach around the local waterways, students heard from guest speakers and experts, attended field trips, and pitched their findings to the community's local daily newspaper, Chico Enterprise-Record, ending up on the front page of the paper's Saturday, February 15, 2020 issue.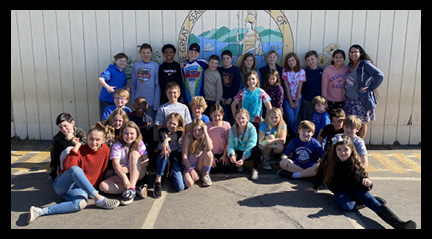 Fourth Place
Sierra View Elementary
PROJECT TITLE: How Climate Change Will Affect Our Future
TEACHER NAME: Miss Emily Akimoto
CITY: Chico
GRADE LEVEL: 4th
After watching a special featuring Greta Thunberg, Miss Emily Akimoto's students became curious about climate change and how it would impact their lives and community, and, in particular, their local watershed. To this end, the class decided to study changes taht they could make to mitigate the effects of climate change. Throughout their project, partipating students donated 24 reusable lunch boxes and food containers to a kindergarten class, donated reusable bags to a local grocery store, installed a water bottle refilling station at the school, started a lunchtime recycling program, presented to classes on recycling, conducted an eco-audit of the school, recorded a music video on climate change and saving water, and conducted further community outreach including educational bookmarks, presentations, and more.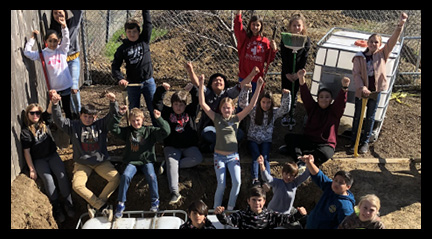 Fifth Place
Murdock Elementary
PROJECT TITLE: Junior Floodbusters
TEACHER NAME: Mr. Mike Buckley
CITY: Willows
GRADE LEVEL: 5th
After observing that their student garden had flooded three out of the six years that it had been in existence, students in this class decided to take action to prevent future flooding and also to store floodwater for use in the garden. To this end, students created a French drain system in their garden, along with storage for 1,100 gallons of water. Additionally the classroom educated their community about their project and about climate change and its effects on storms, rain, and flooding in their community. This outreach included promotions on the news (both in television and print), a website, classroom presentations, and garden tours, and led other community members to install their own French drains for flood prevention.