Congratulations to our 2018-2019 participating classrooms!
We received many spectacular submissions this year from classrooms throughout California. Once again our team is proud of the amazing work and dedication demonstrated statewide from each and every participating classroom. Thank you for doing your part to care for California's water!
Learn about our winning classrooms below!

Curious about past winning classrooms?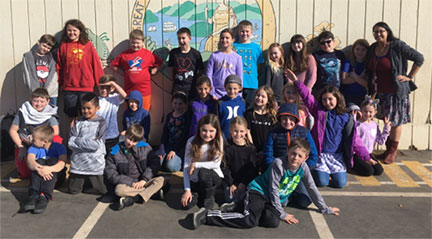 Grand Prize
Sierra View Elementary
PROJECT TITLE: Protecting Paradise
TEACHER NAME: Miss Emily Akimoto
CITY: Chico
GRADE LEVEL: 4th
Ms. Akimoto's students felt a call-to-action after the Camp Fire, California's most destructive fire in recorded history, devastated parts of the Chico community and entire neighboring towns including Paradise, Calif. The students changed their initial competition project to "Protecting Paradise" to reflect their desire to help the community. This project included researching and testing local watersheds, installing wattles and plants to preserve Butte Creek, and creating pamphlets to inform the Paradise community how to effectively rebuild. The impact: cleaner water, fresh greenery, an informed community, and an outlet for student growth and remediation.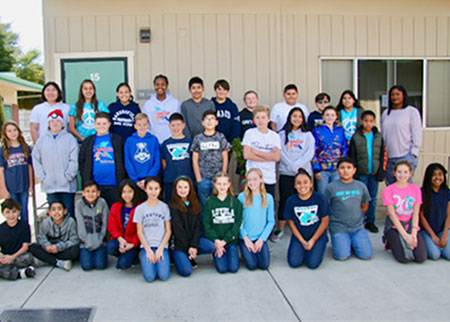 Second Place
Downtown Elementary
PROJECT TITLE: Rain, Rain, Fuel Our Plants
TEACHER NAME: Ms. Rachel Lenix
CITY: Bakersfield
GRADE LEVEL: 6th
Ms. Lenix's students wanted to create a research-tested conservation solution for their community garden. They launched their project, "Rain, Rain, Fuel Our Plants" by dividing into two research teams: rainwater collection and edible plants. Once they proved that tap, rain and reclaimed water grew radishes with similar results, it was time to engineer a solution. They created buckets that could capture rainwater outside and that students could put their unused water in inside. This water was then recycled and used in their community garden. From there, the engineers and researchers introduced the program to clubs, classrooms and principals at Downtown Elementary, William Penn School and McKinley Elementary School and community members such as parents, board members, and supervisors.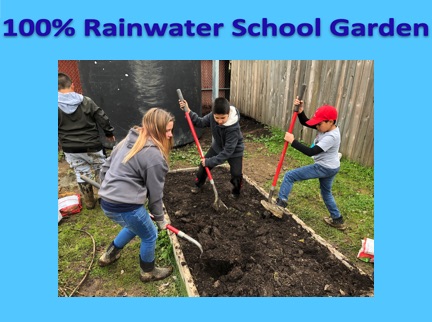 Third Place
Murdock Elementary
PROJECT TITLE: 100% Rainwater Garden
TEACHER NAME: Mr. Mike Buckley
CITY: Willows
GRADE LEVEL: 5th
Mr. Buckley's students wanted to know where their drinking water came from and how much they were using. They realized that most water in their region is pumped and that their community garden used approximately 11,000 to 12,000 gallons per year. With that information, they calculated how to cut their water consumption in half using mulch and vermiculite, increase their rainwater collection from 300 to 7,000 gallons annually, and use solar-powered pumping systems to make their water solution 100% renewable. Their community noticed and came out to help. They built their pump system with adults, explained their project to 17 classrooms and Live Action News and Glenn County Gazette covered their story.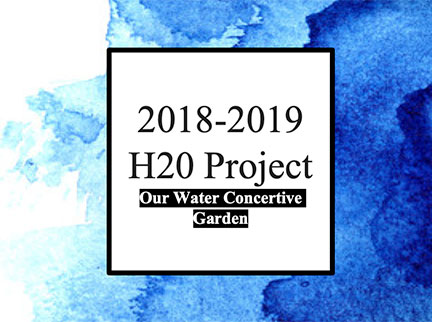 Fourth Place
Robert Hill Lane Elementary
PROJECT TITLE: The Water Conserving Garden
TEACHER NAME: Miss Keri Wohlford
CITY: Monterey Park
GRADE LEVEL: 5th & 6th
Ms. Wohlford's students started their project with a goal of helping fellow students understand the benefits of saving water. They decided to tend to the school garden, which was in need of repair. Guided by research questions, the students created a blueprint for the garden and consulted with the school facilities team for supplies. While constructing the new plot with reclaimed wood, they tested various forms of stabilization for the soil and tracked unused water in their classroom. This water was then recycled and used in their community garden. From there, the students met with TreePeople, a California based nonprofit environmental advocacy group, for advice on how to improve their garden with as little water as possible. With this advice and supplies, the students have been able to grow California Poppies, lavender, and marigolds.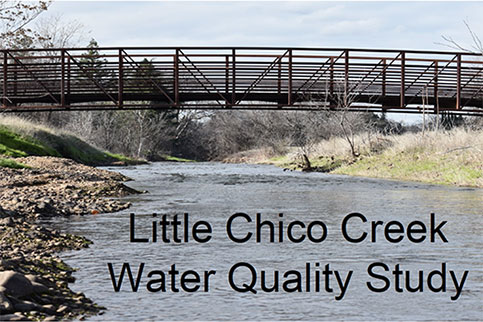 Fifth Place
Little Chico Creek Elementary
PROJECT TITLE: Little Chico Creek Water Quality Study
TEACHER NAME: Ms. Kristen Thomas
CITY: Chico
GRADE LEVEL: 4th & 5th
Following the devestating Camp Fire, Ms. Thomas' students surveyed the safety of their community's water. After seeking professional advice, they set out to test the water of Little Chico Creek to see if it was impacting their health, nearby plants and animals, and macro-invertebrates. Test results showed that the water was safe; the Camp Fire had increased the charcoal in the water, but no amount of rain increased it to unsafe levels. From there, they shared their results with the school, with parents and guardians through a newsletter, and with thousands of people through an Action News Now television broadcast.