Congratulations to our 2016-2017 participating classrooms!
We received many spectacular submissions this year from classrooms throughout California. Once again our team is proud of the amazing work and dedication demonstrated statewide from each and every participating classroom. Thank you for doing your part to care for California's water!
Learn about our winning classrooms below!

Curious about past winning classrooms?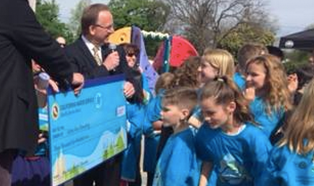 Grand Prize
Sierra View Elementary
PROJECT TITLE: Is Our School Water Safe?
TEACHER NAME: Miss Emily Akimoto
CITY: Chico
GRADE LEVEL: 5th
Inspired by recent events in Flint, Michigan, and growing parental concern over the safety of the school's drinking water, students decided to test Sierra View Elementary school's water quality and contamination levels. To determine the safety of their drinking water, students first researched the what, why and how of water contamination. Second, they collected water samples and worked with local labs to conduct the testing. Test results concluded that the school's drinking water was safe for consumption, and upon receiving the results the students shared the good news with their fellow students and were even featured on the local news station. The class will share their findings at a school district meeting later this year.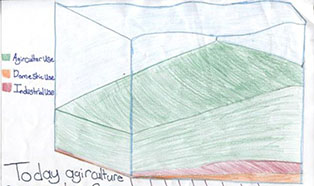 Second Place
Downtown Elementary
PROJECT TITLE: You Drink What You Eat
TEACHER NAME: Ms. Rachel Lenix
CITY: Bakersfield
GRADE LEVEL: 6th
Students at Downtown Elementary in Bakersfield, CA are helping reduce their school's food waste as a means of conserving water. For their project Ms. Lenix's sixth graders researched the amount of water it takes to produce common foods and how reducing food waste saves water. The class then educated fellow students on their findings, and weighed the school's food waste to measure students' progress. Next the students are procuring a "shower timer" for each Downtown Elementary student to help cut back their at-home water consumption.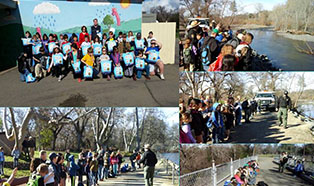 Third Place
Parkview Elementary
PROJECT TITLE: H2O Green Screen Public Service Announcement
TEACHER NAME: Mr. Pete Pembroke
CITY: Chico
GRADE LEVEL: 4th
This classroom is helping to spread the word on the importance of water conservation and quality by producing green-screen PSAs. Students researched water concepts such as the water table, issues with pollution, and drought cycles to better understand water conservation issues. They invited speakers from Cal Water and their local park service, allowing students to meet and ask questions of field professionals. With this foundation of knowledge, students then used green-screen technology to produce a series of PSAs sharing the importance of water conservation with others.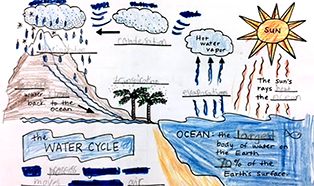 Fourth Place
Murdock Elementary
PROJECT TITLE: What's All the Flood About?
TEACHER NAME: Ms. Jennipher Dace
CITY: Willows
GRADE LEVEL: 5th